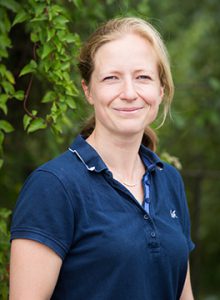 We would like to wholeheartedly congratulate Rachel Tucker, one of the Oaklands Veterinary Centre Equine Surgery Consultants, on successfully passing the qualifying examination of the European College of Veterinary Surgeons (ECVS). This is a fantastic achievement that is the culmination of many years of hard work.
Rachel is now a Diplomate of the ECVS, and we are all very proud of her achievement.
In order to be awarded the Diploma of the ECVS, Rachel has completed an internship programme, followed by a three year residency programme supervised by recognized specialists that meets guidelines established by the ECVS.
During the residency there are specific training and caseload requirements that must be met. Rachel was also required to perform research published in a scientific journal before finally being eligible to sit the examination.
What it means to be a Specialist
Specialists may also be known as "Diplomates of the European College of Veterinary Surgeons" or "board-certified surgeons".
All veterinarians may perform surgery as part of their veterinary practice. However, difficult cases may be best managed by a specialist. The board-certified surgeons in the referrals team at Oaklands Veterinary Centre aim to work closely with owners and primary veterinarians before and after surgery. This team approach ensures continuity of care for your horse and an optimal outcome.
Following surgery and any postoperative follow-up care, the primary veterinarian resumes ongoing care of the horse.
We are dedicated to providing the very best in surgical care, and are also happy to act as a resource for your primary veterinarian by providing consultations on difficult or unusual cases, offering expertise that will help ensure the best possible outcome for you and your horse.