Alba Maldonado Iniesta DVM MRCVS
Small Animal Veterinary Surgeon
Alba graduated from the University of Cordoba, Spain. During her degree she completed many externships and gained lots of first hand experience at different practices. Alba has also completed an internship at a small animal practice in Spain where she was awarded a postgraduate diploma in small animal medicine and surgery from the University of Barcelona (UAB). She is interested in all areas of small animal practice especially internal medicine, soft tissue surgery and imaging. In her free time Alba loves exercising and playing her Spanish guitar.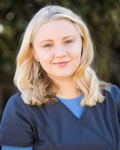 Simona Pankanaite DVM MRCVS
Small Animal Veterinary Surgeon
Simona graduated from the Lithuanian University of Health Sciences in 2016. She has since gained experience in small animal practice in the UK and has developed particular interest in internal medicine and dermatology. Simona first visited England when she was 15 years old and instantly became fascinated with English culture and history. She is especially interested in all aspects of the Victorian era. Outside of work she enjoys spending time at the seaside and in the countryside with her beloved Westie named Luna, as well as cooking, reading classic literature and travelling.